Please click the Icons below to visit our Parents' Information Page, Newsletters & our Calendar.
All Saints' CE Primary School is a Church of England school for children aged 4 to 11. We admit up to 30 children in each year group; there are currently 87 children on roll in 4 classes
All Saints' enjoys a fantastic location close to woodlands, nature reserves and spectacular beaches. The school has spacious, bright classrooms, an IT suite and a fully resourced library. Our learning environment is supported with wireless technology and there are interactive whiteboards in every classroom. The school has extensive grounds, with a well marked playground, spacious play areas, an amphitheatre and a large sports field. Our nature area has numerous habitats, we have a 'Forest Schools' trail and an area for growing vegetables. We have excellent links with Freshwater Early Years Centre, an outstanding pre-school located within the school grounds.
The governors and staff at All Saints' are dedicated, caring and hardworking people. We know and value every child in our school. Our aim is to ensure that each child achieves their best through high quality teaching and support. We are proud our results are continuing to improve; this year we achieved results in-line with or above national average.
As a Christian school, we encourage our pupils to learn and play together in an atmosphere of mutual respect and friendship. Our aim is to ensure that every day at All Saints' is an adventure to enjoy, to learn from and to remember. Our Christian Values are Caring, Respect and Friendship.
You can find out more about our school on the Department for Education website.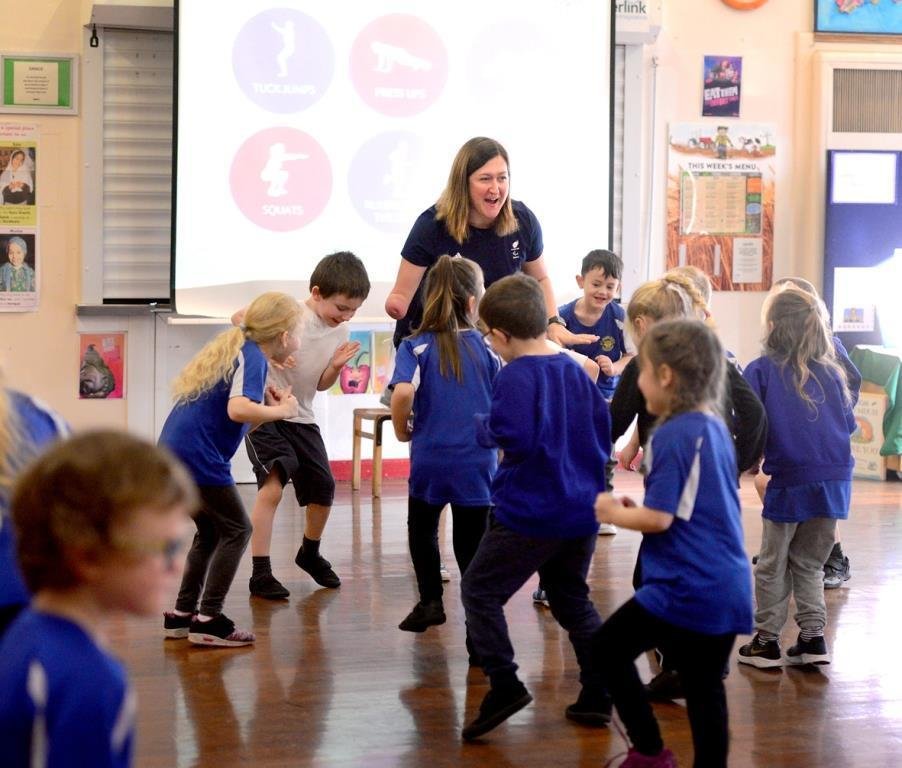 Children enjoying an active session led by
Inspired Through Sport Olympic medal winning athlete Hannah Stodel